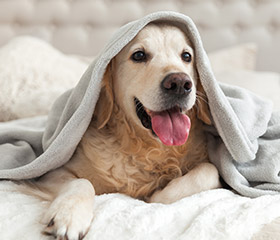 1440 follows California law which allows persons with disabilities to bring trained service dogs and psychiatric service dogs to campus. The protections discussed previously do not apply to emotional support animals. California law, like federal law, doesn't require that emotional support animals or family pets be allowed in public places.
Individuals who have service animals are not exempt from and must comply with local city animal control and public health requirements, so please be sure your service animal meets all vaccination requirements and is properly registered and licensed.
In California, an assistive animal means a trained animal that is necessary as a reasonable accommodation for a person with a disability and includes guide dogs, signal dogs, service dogs, and psychiatric service dogs. Only a dog that is trained to recognize and respond to an individual's disability-related need for assistance can be considered a service dog.
California law allows business owners to require that an assistive animal be (i) free from offensive odors and displays appropriate habits (for example, is potty-trained) and (ii) does not engage in behavior that endangers the health or safety of the individual with a disability or others around them.
Since the ADA does not require service animals to wear a vest, ID tag, or specific harness, it may not be obvious to the 1440 staff that your dog is a service animal. In such cases, we have the legal right to ask you the following two specific questions in support of your well-being:

Is the dog a service animal required because of a disability?
What work or task has the dog been trained to perform?

As the handler, you are required to be in control of your service animal at all times and are responsible for caring for and supervising the service animal, which includes toileting, feeding, and grooming and veterinary care. 1440 is not obligated to supervise or otherwise care for any service animal.
The service animal must be harnessed, leashed, or tethered while in public places unless these devices interfere with the service animal's work or the person's disability prevents use of these devices.
Seating, food, and drink are provided for customer use only. The ADA gives a person with a disability the right to be accompanied by his or her service animal, but 1440 is not required to, nor does it allow, a service animal to sit or be fed at the table.
While 1440 does not charge guests any sort of fee for housing your service dog or cleaning its hair and dander, we will assess and charge you for any damage to the room or campus your service animal may cause as we would any other guest.